A Dashboard Portal for Looker Studio
DashPort by Lookermetrics allows businesses to use common Looker Studio master dashboards for all their users.
Features
Here are the features of DashPort that makes it the perfect fit for the reporting needs of any agency.
Self-service dashboards
Give your customers their own dashboard to view their data.
Custom Branding
A dashboard portal customized to match your brand.
Custom Domain
Host the dashboard portal in your domain.
URL Expiration
Ability to set URL expiration to tighten security.
Expert Advice
Get expert advice on Looker Studio and BQ from the world's best consultants.
Login Setup
Setting up single, group or Admin logins with ease.
Streamlining Data Access
DashPort streamlines user-specific data sharing for businesses, enabling them to employ a single Looker Studio master dashboard for all users, thus eliminating the necessity of crafting individual dashboards for each user. It's important not to confuse DashPort with Looker Studio's Row-Level data access feature, as DashPort offers greater sophistication and versatility in this regard. It makes Looker Studio technically one step closer to Looker.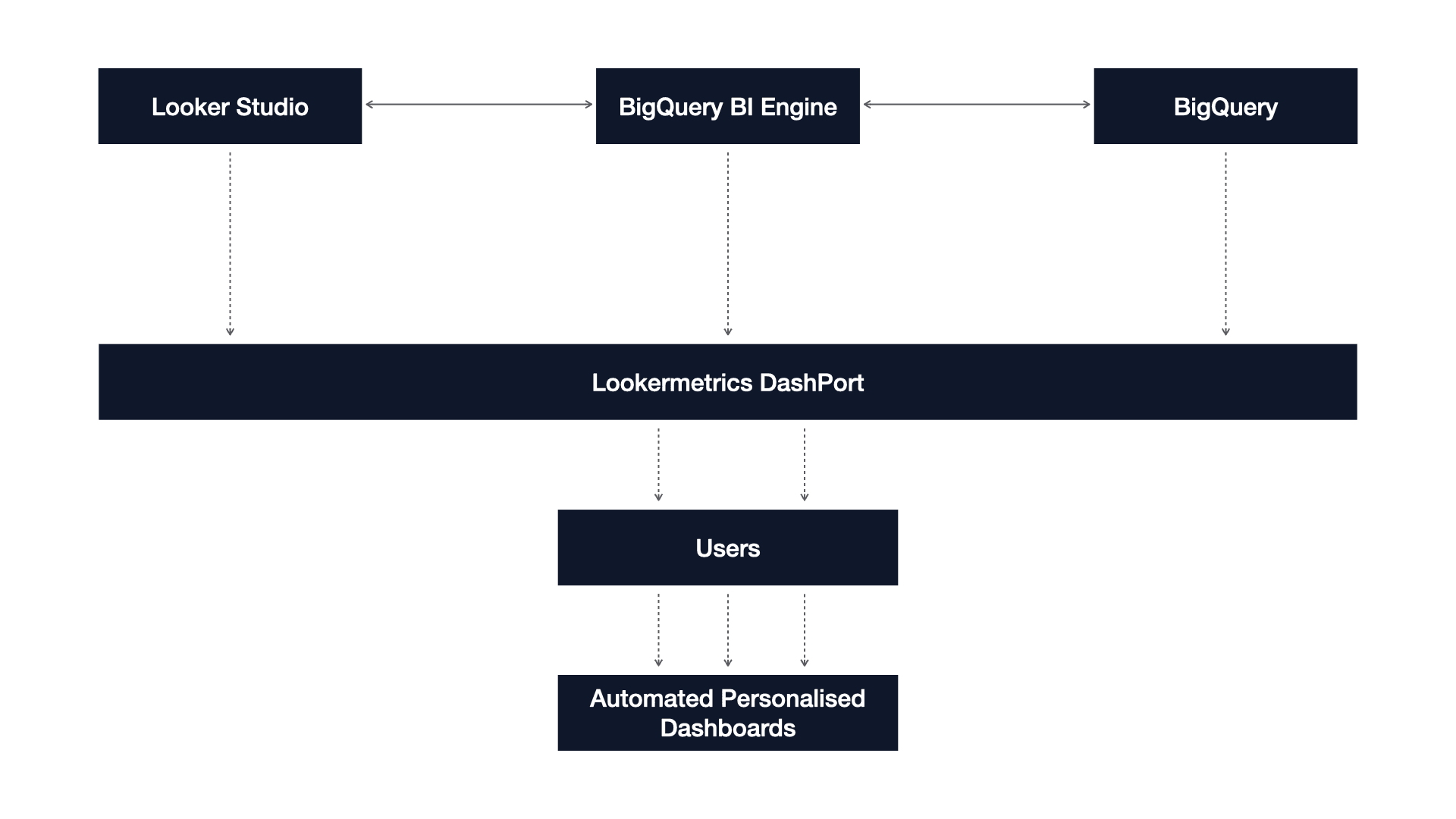 Onboarding Process
Step 1: Initiate Contact
Reach out to us to discuss the current status of your existing dashboard.
Step 2: Dashboard Assessment
We will evaluate your existing dashboard and provide detailed instructions for integration with DashPort.
We support the following data sources:
Google BigQuery
Supermetrics Enterprise API
Google Sheets (Beta)
Step 3: Optimize for Efficiency (Optional)
Take advantage of our complimentary consultation to enhance the performance of your Looker Studio Dashboard.
Step 4: Portal Setup
We will create a dedicated portal tailored to your specific needs for hosting your dashboards.
Step 5: User Onboarding
Our team will assist in the onboarding process, ensuring a smooth transition into the DashPort environment.
Step 6: Access Granted
Once onboarded, you will gain unrestricted access to DashPort, allowing you to share your dashboards effortlessly.